With the purchase of a Yield Monitor, access to your raw yield data is always free through the FarmTRX Web App.
 At any time, customers can log in to their Web App account to view and export FarmTRX yield data as ESRI shapefile or AgLeader Basic file formats. If you like the idea of automated yield data cleanup and yield mapping, FarmTRX Premium web service is for you.
What is FarmTRX Premium Web Service?
For the first year after your purchase, you'll receive FarmTRX Premium in the Web App. Premium includes the automated cleanup and correction of yield points into precision, agronomy-ready yield maps. FarmTRX generates corrected maps within minutes of data upload, so if you sync your yield data over WiFi (or cellular data) in the yard or in the field while the combine cools, you'll have maps in your account by the time you're back to the house and sitting at the computer. Premium access delivers 9 different map layers for every field, including a corrected yield map, trend of yield map and zoned yield map. For contrast, Free users will see 2 map layers for every field: raw yield points and the field boundary.
With FarmTRX Premium, misleading harvest data that was recorded by the monitor (like headland turns, partial rows, unloading points, hills, multiple combines with different calibrations in one field) is automatically detected and corrected to product accurate maps that validate what really happened in the field.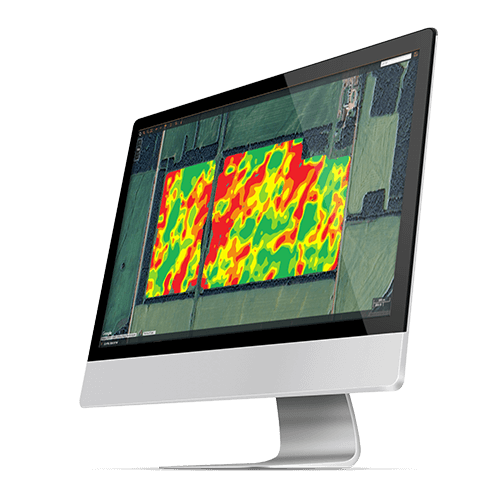 The ability to back-calibrate harvest data is also available through the post-harvest calibration function of the Premium Web App service. As long as the Yield Monitor is powered on and recording data through harvest, farmers can get accurate yield maps for their fields by simply adding the total field takeoff (elevator results) into the field settings. The yield data is reprocessed and the yield map is automatically updated. Post-harvest calibration safeguards against any potential calibration errors made while harvesting or entirely missing a calibration run. We get that harvest is go-time and anticipate not every operator to have the time or willingness to do an in-app crop calibration before harvesting. This way, you can always get accurate maps after the fact.
Agronomists and those managing many fields worth of FarmTRX data will appreciate the Client Farm Field (CFF) function available in Premium. CFF allows users to organize and view their yield data by nested categories (client, farm or field) making data management simpler.
What's the cost difference for the farmer?
FarmTRX Premium is an opt-in service that you can upkeep or let go after your first year. You'll be notified within 30 days of account expiry, and given the option to renew Premium or downgrade to Free. Users will always have Basic (free) account access to their raw yield data collected by the FarmTRX Yield Monitor and the option to export raw data to other agronomy, precision ag or farm management platforms.
The price for FarmTRX Premium is based on acres in your account, the range for most farmers is from US$250/year (1-500 acres) to US$950/year (8,000-10,000 acres). Get your exact price for FarmTRX Premium by requesting an estimate from our team.
Compare FarmTRX Premium and FarmTRX Basic (free) below:
| | | |
| --- | --- | --- |
| Features | Basic  | Premium |
| Automatic over-the-air firmware update |     ✓ |     ✓ |
| Field selection |     ✓ |     ✓ |
| Data upload via WiFi or mobile network |     ✓ |     ✓ |
| Automatic yield data sorting to field boundary |     ✓ |     ✓ |
| Yield data visual/query |     ✓ |     ✓ |
| Yield data points export |     ✓ |     ✓ |
| Yield data correction |     ✗ |     ✓ |
| Post-harvest calibration function |     ✗ |     ✓ |
| Automatic yield map generation |     ✗ |     ✓ |
| Automatic multi-combine calibration |     ✗ |     ✓ |
| Corrected yield data export |     ✗ |     ✓ |
| Trend of yield map |     ✗ |     ✓ |
| Zoned yield map (soil sampling) |     ✗ |     ✓ |
| Yield map export |     ✗ |     ✓ |
| Field Binder PDF export |     ✗ |     ✓ |
 What's Coming to Premium?
For Premium Web App users, a host of new features are being continually developed and added to the Web App. Expanding our integrations and compatibility list to include the most in-demand farm management software is ongoing, as well as offering increased export formats so farmers can be sure they'll get their yield data where it needs to go. Join the FarmTRX mailing list to be the first to hear when new features and integrations have arrived to the Web App.